OBRC Launches "Small Deposit, Big Return" Campaign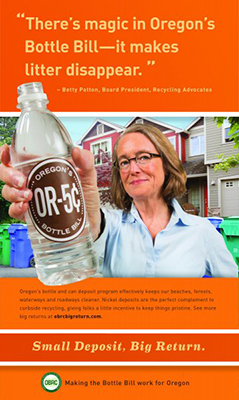 AOR member Oregon Beverage Recycling Cooperative launched a new ad campaign for the Bottle Bill, "Small Deposit, Big Return," that features some familiar faces, including Betty Patton - AOR Member, Recycling Advocates President, and former AOR Resource Director! Other ads feature Oregon Governor Kate Brown and EARTH2O CEO Steve Emery.
The campaign come with a brand new website. Here are some excerpts from the site: 
Long ago, Oregon's Bottle Bill—and its nickel deposit—set in motion an industry-run, tax-free system that still excels today. Its ability to fight litter everywhere, and supply re-manufacturers, makes it the perfect complement to curbside recycling.
In 1971, then governor Tom McCall signs the Oregon Bottle Bill into law, paving the way for a current bottle and can return rate of 70%—far exceeding the national average.
Nickel returns complement curbside recycling. One encourages recycling bottles and aluminum cans. The other handles cardboard, tin cans and more. Now that makes sustainable sense.
Innovative BottleDrop Centers—with iconic green cards and green bags—make returning bottles and cans easier for consumers, and helps industry handle the load.
In a year, the Oregon Beverage Recycling Center helps recycle 138 million pounds of glass bottles, plastic bottles and aluminum cans into a clean stream of product for remanufactured goods.
Oregon's Bottle Bill is still an effective litter deterrent. Every year it keeps billions of bottles and cans out of landfills and landscapes, keeping our roadways, rivers and beaches cleaner.