Forum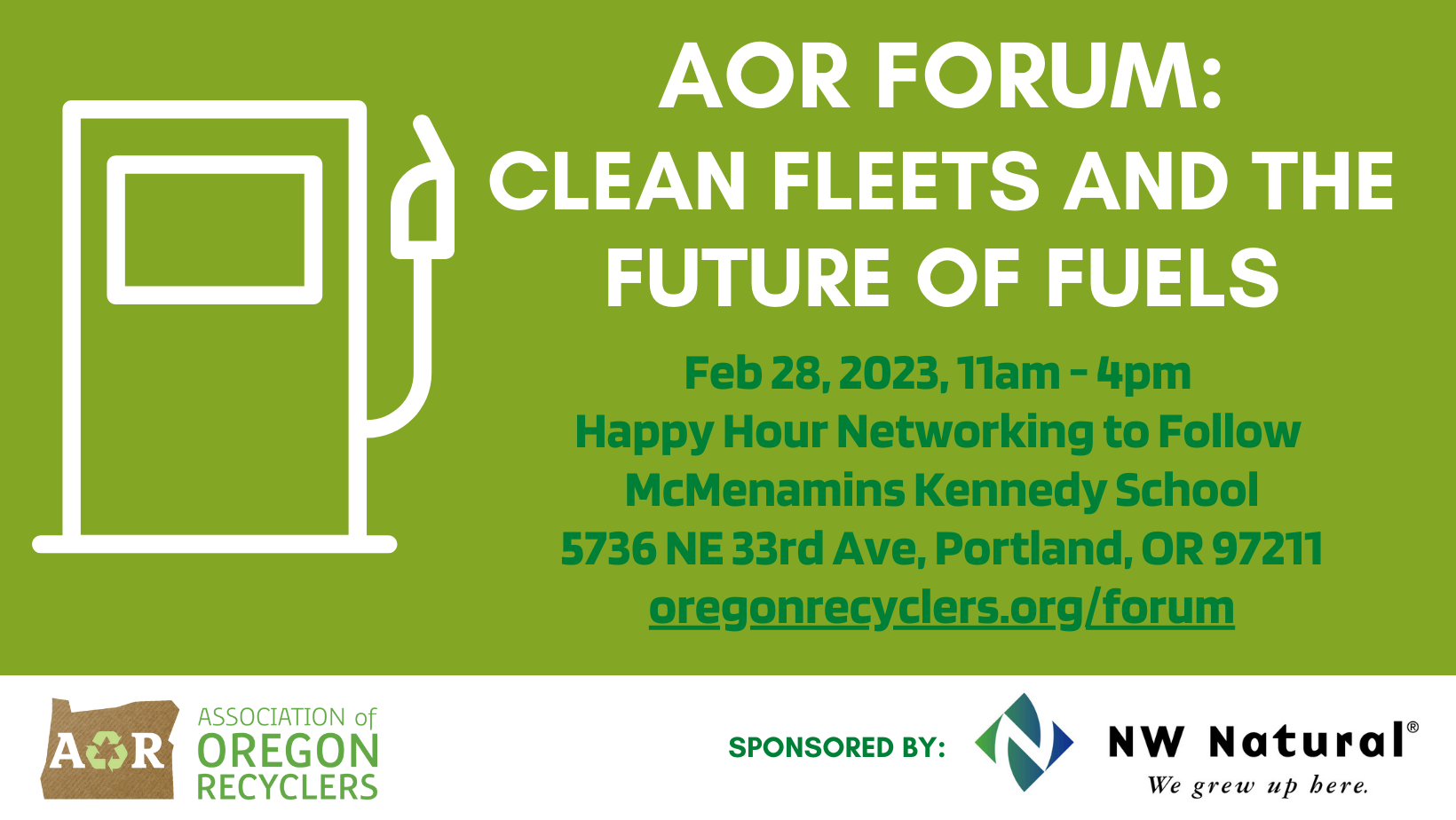 AOR will be hosting a forum on February 28th at the McMenamins Kennedy School from 11-4pm. We'll be examining Clean Fleets and the Future of Fuels. 
Our moderator will be Michael Graham from the Columbia-Willamette Clean Cities Coalition, and our experienced and varied panel of speakers will be sharing their insights on what they are seeing on the ground and on the horizon in the push to minimize the transportation sector's impact on the environment.
With the advent of Oregon's recently adopted Advanced Clean Cars II regulation, coupled with the recognition that the entirety of the recycling system is entirely transportation dependent, there is great opportunity right now to engage our members on the topic of cleaner transportation.
Confirmed speakers include:
Price:
AOR Member - $95
Non-Member - $150
---
THANK YOU TO OUR SPONSOR

NW Natural is a local distribution company that currently provides natural gas service to approximately 2.5 million people in more than 140 communities through more than 790,000 meters in Oregon and Southwest Washington with one of the most modern pipeline systems in the nation. NW Natural consistently leads the industry with high J.D. Power & Associates customer satisfaction scores. We have a longstanding commitment to safety, environmental stewardship, and taking care of our employees and communities. Learn more in our latest ESG Report.
---
SPEAKER BIOS
Michael Graham, Deputy Director, Columbia-Willamette Clean Cities Coalition
Michael Graham is the Deputy Director at the Columbia-Willamette Clean Cities Coalition and Coordinator for the Western Washington Clean Cities. Clean Cities, a U.S. Department of Energy program, functions as a public private partnership with fleets to help reduce transportation petroleum consumption through education, outreach, and fostering of local partnerships.
Michael works closely with fleets and clean transportation stakeholders across the Northwest to support alternative fuels adoption, developing new partnerships with stakeholders and growing existing relationships to further the mission of Clean Cities in the Northwest. Prior to the CWCCC and WWCCC, Michael co‐authored Oregon's first Statewide Inventory of Biogas & Renewable Natural Gas Resources (2017) at the Oregon DOE.
His recent work has involved managing several U.S. EPA awards to reduce diesel emissions by replacing diesel yard tractors with electric units, as well as a recent award from Portland General Electric to deploy the State of Oregon's first all-electric refuse truck in a local Portland, minority-owned company. Michael is also the current Principal Investigator for the nationwide U.S. DOE-funded EMPOWER workplace charging project, managing all budgeting, reporting, and direction of project deliverables and outreach activities.

Ian Maarefi, CNG Program Manager/Key Account Manager, NW Natural
Ian is a Key Account Manager with NW Natural's Major Account Services Team. He is responsible for educating and cultivating relationships for NW Natural's largest commercial and industrial customers throughout the state of Oregon and SW Washington. He assists NW Natural's customers with navigating the complex world of rate schedules, regulations, costs, and sustainability initiatives. In addition, he manages NW Natural's CNG Program. Ian serves on the board for the NW Alliance for Clean Transportation and Oregon's Association of Professional Energy Managers. He's an Oregonian that graduated from Oregon State University. When Ian is not hanging around CNG compressors, he can be found spending time with his family, mountain biking, or woodworking.

Cory-Ann Wind, Oregon Clean Fuels Program Manager, Oregon DEQ
Cory-Ann Wind works for the Oregon Department of Environmental Quality as the Oregon Clean Fuels Program Manager. Cory has worked for ODEQ for 29 years, the last 13 overseeing the development and implementation of the Oregon CFP. Cory holds a B.S. in BioResources Engineering from Oregon State University.

Bill Woody, Fleet Manager, Pride Disposal & Recycling
I grew up as the son of a mechanic and family-owned truck shop, Woody's Truck Repair. Our shop was located here in Sherwood and was open from 1986 to 2000. I worked for our family until I graduated high school and went into the Air Force. In my career I have worked for Brattain International, Wadsworth Golf Construction, Hertz Equipment Rental, and Pride Disposal Company (10/2000 to current time). I have been a mechanic, fabricator, shop manager/owner, and fleet manager in my career. I have worked in shops and in the field. I think it is important to add that at this point in my career, I pass my knowledge on to the up-and-coming mechanics. They are the future of our industry.
Looking for past forum information? Members may login and view the archive. Not a member? Join today!