Agenda
Below are the list of sessions as part of the AOR Sustainable Oregon 2020 Virtual Conference Series:
---
---
Centering Community Priorities in Community Engagement Efforts
Tuesday, September 29, 2020, 10am - 12pm
Learn how three projects in the Northwest put community priorities first to create more effective waste prevention, reuse, and recycling programs.
Presenters:
REGISTER FOR THE ENTIRE SERIES
---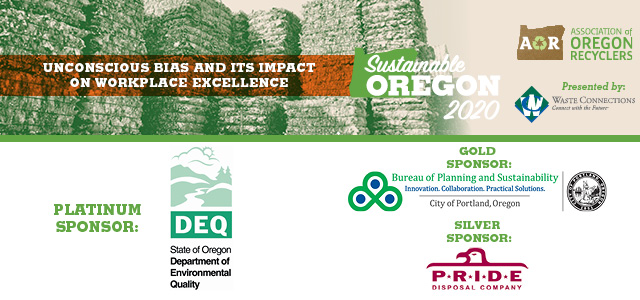 Unconscious Bias and Its Impact on Workplace Excellence
Thursday, October 1, 2020, 1pm - 3pm
Don't miss this opportunity to be part of one of the most critical conversations of this conference. AOR is excited to continue to lead the conversation around equity in our industry with this presentation from Serilda Summers-McGee, Founder and Principal of Workplace Change. Serilda has 15 years of experience in human resources and has consulted for organizations such as Nike, the City of Portland, and Oregon Environmental Council.
She will speak to AOR's membership about recruitment and retention best practices, microaggression recognition, and the signs and symptoms of implicit bias in the workplace.
Participants will walk away with a new understanding of workplace diversity, the construct and history of dominant culture, and how to notice and navigate institutional inequities and microaggressions.
Presenters:
REGISTER FOR THE ENTIRE SERIES
---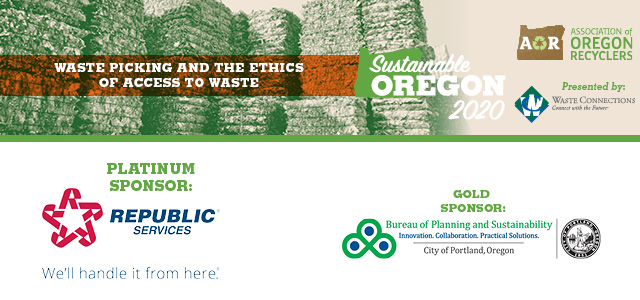 Waste Picking and the Ethics of Access to Waste​
Tuesday, October 6, 2020, 10am - 12pm
Waste pickers were the original recyclers and waste collectors. Over time, their role in waste management and recycling has been marginalized and stigmatized, but they continue to play a critical role in the system. Learn how three organizations are elevating the voices of waste pickers and their important impacts on sustainability efforts.
Presenters:
REGISTER FOR THE ENTIRE SERIES
---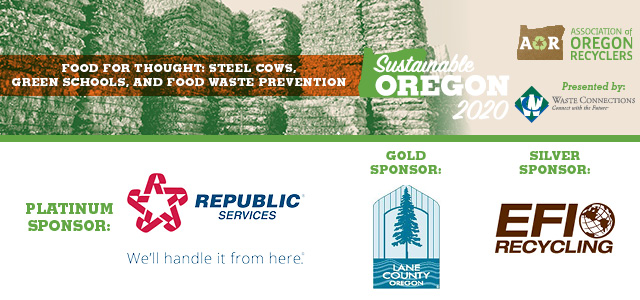 Food for Thought: Steel Cows, Green Schools, and Food Waste Prevention
Thursday, October 8, 2020, 1pm - 3pm
There are amazing schools out there paving the way in waste reduction and positive sustainability behavior change. This session will focus on the success of local Green Schools implementing milk dispensers, also known as "steel cows," focusing on green school cafeteria certification and incorporating food waste prevention curriculum. In addition, DEQ will present their data and research findings on their statewide food waste prevention campaign. DEQ will enlighten us on best practices and how to motivate food waste prevention behaviors.
Presenters:
REGISTER FOR THE ENTIRE SERIES
---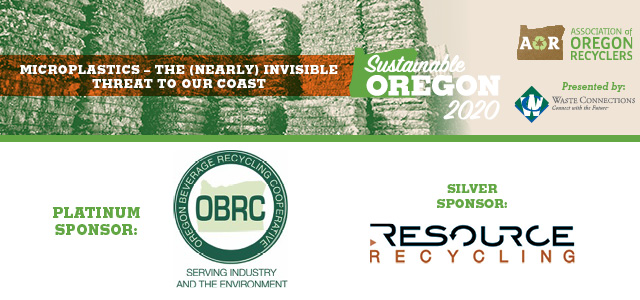 Microplastics – The (Nearly) Invisible Threat to Our Coast
Tuesday, October 13, 2020, 10am - 12pm
Ocean plastics, and their threat to our environment and our economy, include a lot more than straws. Many of us in the industry are aware of the threat of microplastics but this grave problem is still unknown to the general public. Increased awareness and understanding of microplastics is important so that coastal communities can address this problem and organize clean-up activities efficiently to protect the public good.
Presenters:
REGISTER FOR THE ENTIRE SERIES
---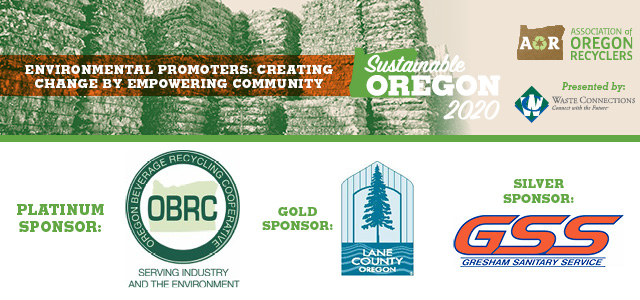 Environmental Promoters: Creating Change by Empowering Community
Tuesday, October 13,  2020, 1pm - 3pm
Learn how two great projects are empowering community-based organizations to become better recyclers and environmental promoters. They will talk about a partnership between Washington County, Centro Cultural, and Metro to have community members take a community-designed Master Recycler class and form a group of Latino Environmental Promoters.
The session will also discuss how Trash for Peace and Metro implement their Environmental Promoters program by training and hiring residents that live on multifamily housing sites in Multnomah County. The session will also cover how both provide outreach, engagement, and implementation of their programs, involving environmental justice.
Presenters:
REGISTER FOR THE ENTIRE SERIES
---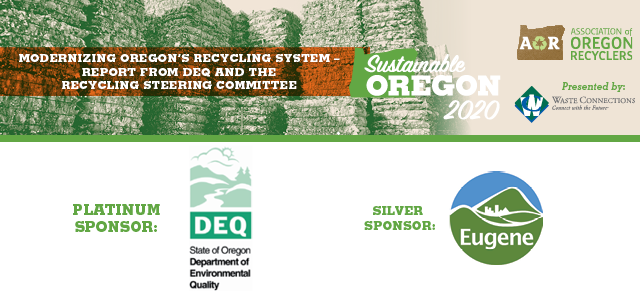 Modernizing Oregon's Recycling System – Report from DEQ and the Recycling Steering Committee
Thursday, October 15, 2020, 1pm - 3pm
The Recycling Steering Committee (RSC) is perhaps the most important thing happening in Oregon recycling policy today. It's also been a long road with many twists and turns. Tune in to this session to get the latest on what's going on with the RSC from the sources you trust at DEQ.
In 2018, Oregon DEQ convened the Recycling Steering Committee (RSC) in response to unprecedented recycling market disruptions that had a profound impact on recycling programs throughout the Pacific Northwest. Consisting of 16 representatives that play a key role in Oregon's system, the goal of the RSC is to recommend changes to modernize Oregon's recycling system. This presentation will address the RSC process, summarize research conducted for the project, plus detail the RSC's recommendations for modernizing Oregon's recycling system.
Presenters:
REGISTER FOR THE ENTIRE SERIES
---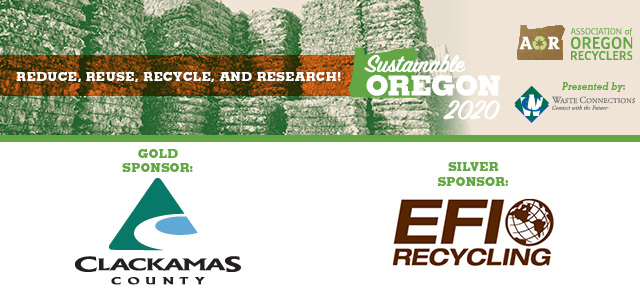 Reduce, Reuse, Recycle, and RESEARCH!
Tuesday, October 20, 2020, 10am - 12pm
Behavior change is recycling's holy grail. Learn how programs in Washington and Oregon are turning great research into real behavior change.
Presenters from Oregon DEQ, Washington Department of Ecology, and Metro will share research insights and discuss the messages and strategies they have developed to support behavior change and reach new audiences with an emphasis on reaching communities of color.
The audience will learn about the following campaigns and resources: Washington's Recycle Right campaign, Oregon DEQ's Recycle Right resources, and Metro's Recycle or Not campaign.
Presenters:
REGISTER FOR THE ENTIRE SERIES
---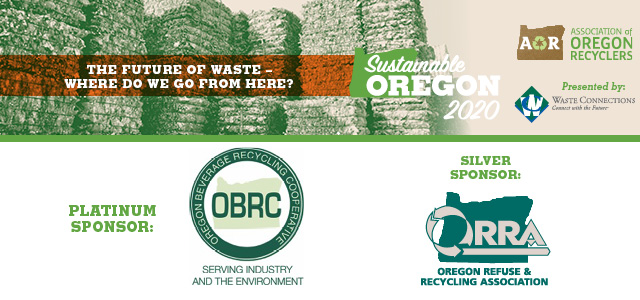 The Future of Waste – Where Do We Go From Here?
Thursday, October 22, 2020, 1pm - 3pm
What if recycling isn't enough? In the industry, we strive for more recycling but we also know that more must be done. What changes do we need to make as an industry to meet carbon emission goals and sustainable materials management? Join us to hear from professionals on sustainable consumption and clean materials that provide a plan on where we go from here.
Presenters:
REGISTER FOR THE ENTIRE SERIES
---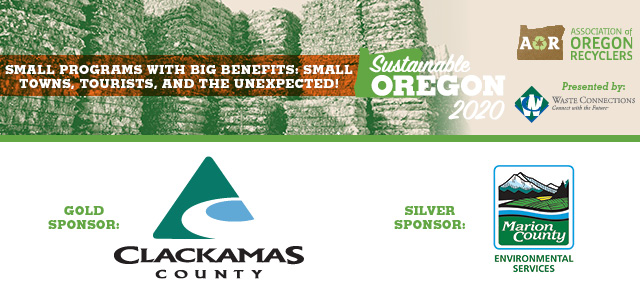 Small Programs With Big Benefits: Small Towns, Tourists, and the Unexpected!
Tuesday, October 27, 2020, 1pm - 3pm
When budgets are small and one person with a ton of energy and some great ideas has to make it work, it takes partnerships, skills, and creativity to build and sustain recycling programs in rural areas, at tourist destinations, and for ginormous events - especially unexpected ones. Four panelists will share their successes and the challenges faced to develop programs and keep them working.
Presenters:
REGISTER FOR THE ENTIRE SERIES
---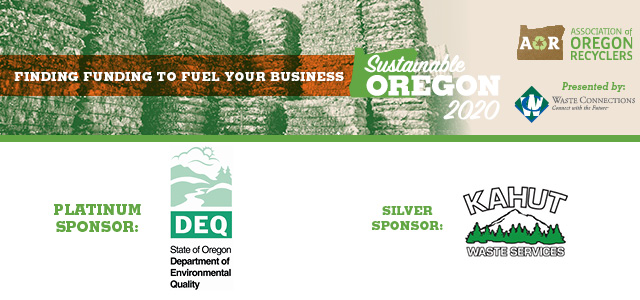 Finding Funding to Fuel Your Business
Thursday, October 29, 2020, 1pm - 3pm
Get tips from grant program managers and past grant awardees on how to make your proposal successful.
Learn about Oregon DEQ's Reuse & Repair Grant Program and their Materials Management Grant Program, which is currently accepting applications. Also hear from Metro about their Investment & Innovations Grants.
Presenters:
REGISTER FOR THE ENTIRE SERIES
---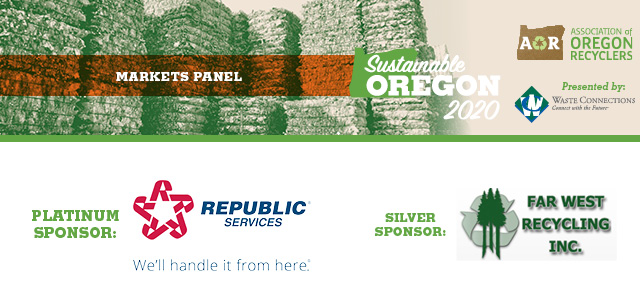 Markets Panel
October 29, 2020, 10am - 12pm
This panel is always a conversation starter and a cornerstone of the annual conference. Get insights from experts working in the recycling commodity markets every day.
Come join the experts as they discuss historic trends, domestic and global end markets, barriers, opportunities, and possible futures for plastics, metals, and fiber.
Presenters:
REGISTER FOR THE ENTIRE SERIES
---