House Interim Committee On Energy and Environment holds informational hearing on recycling markets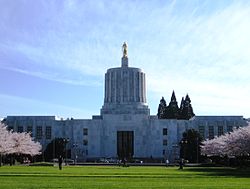 The Oregon House Committee on Energy and Environment held an informational hearing on the recycling markets issue earlier this week.
The speakers included Abbey Boudouris and Brian Fuller from DEQ, Kristin Mitchell from ORRA, and Michael Wisth from the city of Eugene.
They did a great job providing an overview of the situation and discussing how local areas are responding.
We expect there will be another hearing in the fall.
You can listen to the hearing, here:  http://oregon.granicus.com/MediaPlayer.php?clip_id=24896 -  It's about 20 minutes long.