Welcome New Member - Oregon Mermaids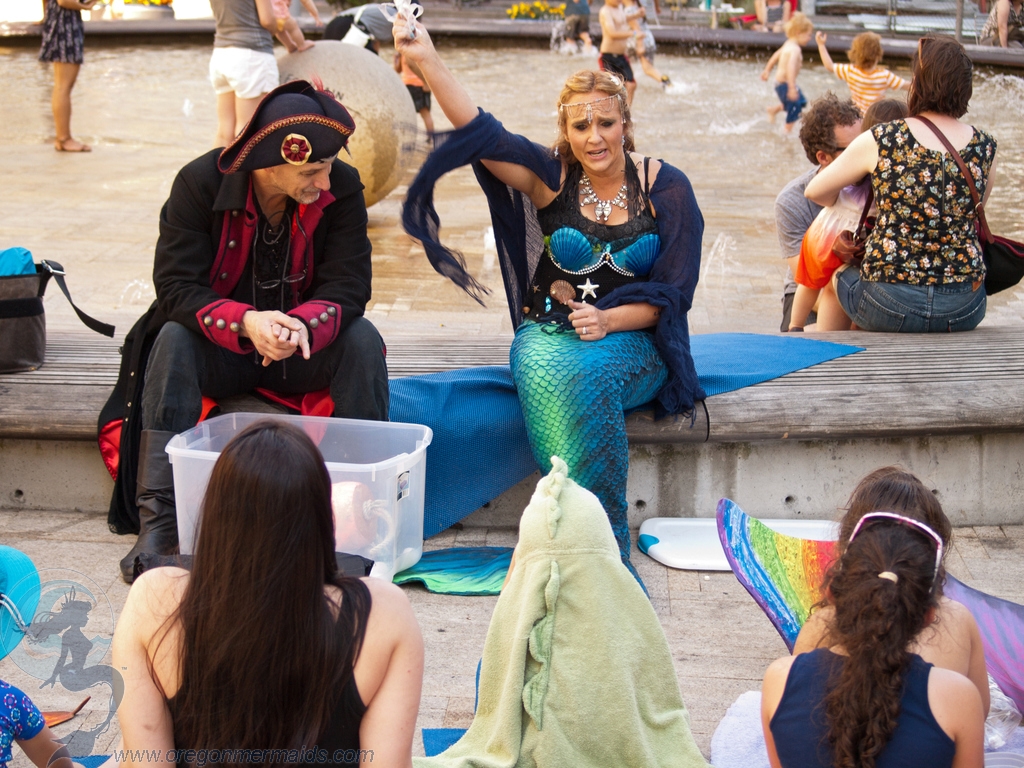 What is the name of your business or organization?
Oregon Mermaids LLC
What does your business/organization do?
Educate children and adults on conservation and recycling. 
Tell us about your business/organization's recycling/sustainability practices. 
We have a powerful recycling class that we have been teaching since 2012. 
We are honored to be members with the Association or Oregon Recyclers. My mission is to enroll myself and our mermaid entertainers in some of the AOR workshops, to absorb more knowledge, so we can make our driving force a powerful one that will reach children who will grow into adults with an understanding of the powerful impact not recycling will have and lead to if we don't make drastic and sustainable changes now. 
People ask me (why a mermaid), I am happy to answer that question as I am sure some of you AOR members are wondering; It gabs and holds the attention of our most impressionable minds in America , that of a young child and adults too. We created a program designed to pack a punch of reality from a whimsical and soft spoken mermaid. 
I have Girl Scouts that took our class from us back in 2012 - That we saw again at Girl Scout Girl Fest 2018, they said to me; we still remember your mermaid lesson and loved it so much that we have signed up for another class with you for this fall at the Girl Scout Headquarters off Barber Blvd. 
I remember that first Girl Scout glass back in 2012- I had just lead the Grand Floral Parade Walk for our Fred Meyer associates, I was exhausted, I almost did not go to that first Girl Scout encounter, I did because that inner voice keep sayin to me, this one counts, make it work, so off went my Fred Meyer Shirt and on went my mermaid tail and that night we were teaching our conservation program that lead years later into a partnership with Girl Scouts. 
Life is not easy, speed bumps and pot holes are in that road, if we learn to go through them as a team, the more that road is walked on, the smoother the edges are when stop ignoring the situation we all work together to defeat it, the more people we have working together, the bigger difference we will make in this world. One step or splash at a time. 
Oregon Mermaid Pledge: 
Instilling a lifelong Love of the Ocean and its Inhabitants in the hearts of everyone we meet.The Oregon Mermaids impart their love of the briny deep, its wildlife, the ocean beaches and conservation information with a creative mix of ocean lore, fantasy and information that will spark the imagination of young and old alike.
The Oregon Mermaids offer services with an element of wonder, fantasy, and unique interactive entertainment; We teach educational conservation classes 
Oregon Mermaids Logo is a fun patch for the Girls Scouts to earn by taking one of our Conservation Classes through their Stem, Conservation or Water Safety program. 
How would you describe your work culture?
Rewarding and exciting
What motivates your employees to meet your recycling/sustainability goals?
Making a difference and having a positive impact in our community that wont be forgotten. 
If your business or organization was an animal, which one would it be and why?
We would be a Dolphin, because they protect other animals and people . The Dolphin has multiple stories and videos on the internet of how they were a protector of people, they also have horrifying videos of what humans do to them, however, they still protect because I believe they are being motivated by a high power and forgive humans because they know not what they do. 
How did you learn about AOR?
Searching the internet for a program that lines up with our goals and needs.