Welcome New AOR Member Michael Freudenthal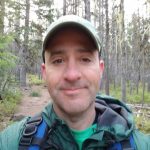 What is your name? Michael Freudenthal
Where do you work and what do you do? I am an independent consultant assisting my clients with: sustainability, supply chain, risk management and food safety.
Tell us how you embrace recycling/sustainability into your home or workplace? As an avid pursuant of Zero Waste goals in my home, I have expanded my volunteerism to eco-friendly initiatives. Client worksites offer opportunities for continuous improvement across all sectors of the business, including waste reduction, recycling, etc.
What motivates you to recycle and live sustainably? My life's mission is to leave the world a better place for my family and all of Earth's inhabitants. Climate change and the proliferation of micro plastics are two of the most critical issues on which I focus.
If you were an animal, which one would you be and why? Crow: intelligence, problem solving, amazing adaptability and reverence for their fallen murder members are traits that are incredibly unique in the animal world (including humans).
How did you learn about AOR? Recycling Advocates.