Sustainable Oregon 2022 Winner: Source One Serenity
Nominated by Cathy Brown of the Oregon Department of Environmental Quality's Eastern Region, she felt compelled to shine the light on this winner and their efforts that extend beyond materials and sustainability. While providing mental health support and well-being in their community, this organization has also led a grassroots effort in rural Oregon that targets an impactful material: food waste.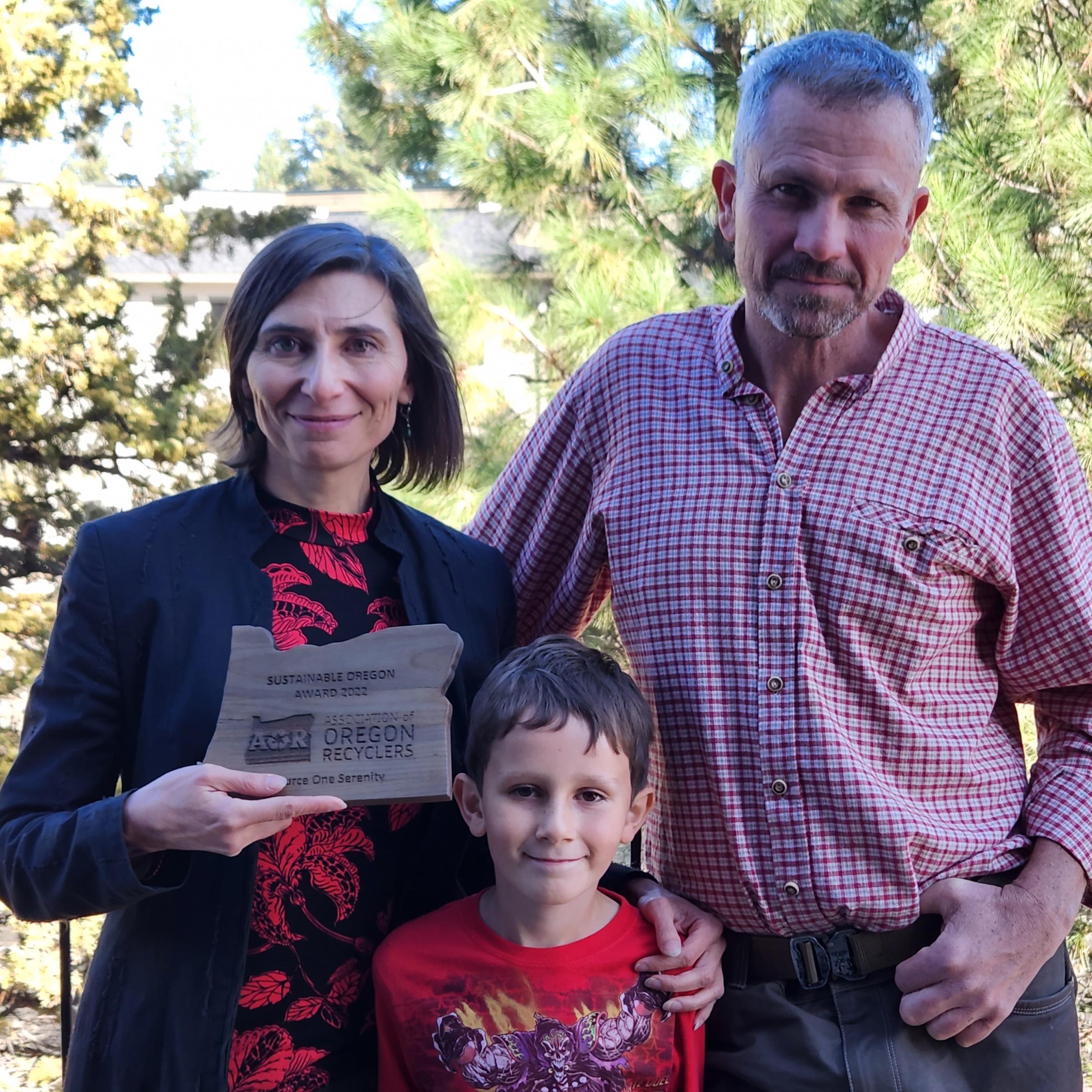 Source One Serenity is a non-profit organization with a mission to "empower veterans to reclaim their sense of purpose through outdoor activities and land stewardship". They were awarded a DEQ grant in 2019 – and you may be wondering what the connection is to "materials management", so here's a little background. Elena and Rusty Lininger lead Source One Serenity, and they had a vision for local farmers to use natural amendments instead of synthetic fertilizers to repair agricultural soil as part of their land stewardship ethic. They developed a plan to make worm castings through a social enterprise called "Heal Terra". This plan happened to fall into our materials management realm, with food waste collection and composting as the core elements to achieve this goal.
Launching this project was not as easy as it may have originally seemed. Elena and Rusty had to go through numerous steps to get started, including navigating state and county regulations and local land use laws as they searched for a location to set up the worm digestor. They were successful in developing a partnership with Douglas County on two fronts.
First, Elena and Rusty arranged a lease with the county to set up the worm farm adjacent to the Glide Transfer Station about 10 miles east of Roseburg. Here they had to clear space, set up the worm digester and Polytunnel shelter, and figure out how to operate "off the grid" with no utilities provided at the site.
Second, the two collaborated on a cooperative agreement to apply for a USDA grant, which was awarded to Douglas County in 2021. The dedication by Source One Serenity led them to full implementation of the composting project, with some innovative thinking and modifications along the way.
Elena and Rusty Lininger have worked tirelessly to create the worm farm as part of Source One Serenity's many accomplishments. They are active community members, creative and knowledgeable, and passionate about sustainable agriculture and most of all serving veterans of Douglas County.
Food waste diversion is challenging in rural parts of Oregon without infrastructure, and Source One Serenity's actions could be a model for other grassroots efforts across the state.