Sustainable Oregon 2022 Award Winner: City of Gresham, Frog & Toad, and Trash For Peace Multifamily Pilot Project
Nominated by the City of Gresham, here is what award presenter Gretchen Sandau had to say about this group:
Hello everyone, I'm happy you all are here to celebrate the winners of the Sustainable Oregon Awards. It is with great honor that I get to introduce and award, an amazing project with an incredible team of individuals who have come together to address a longstanding issue of bulky item removal from multifamily communities.  The work that these folks have done shows what can happen when people come together to collectively address a historically underserved community's need.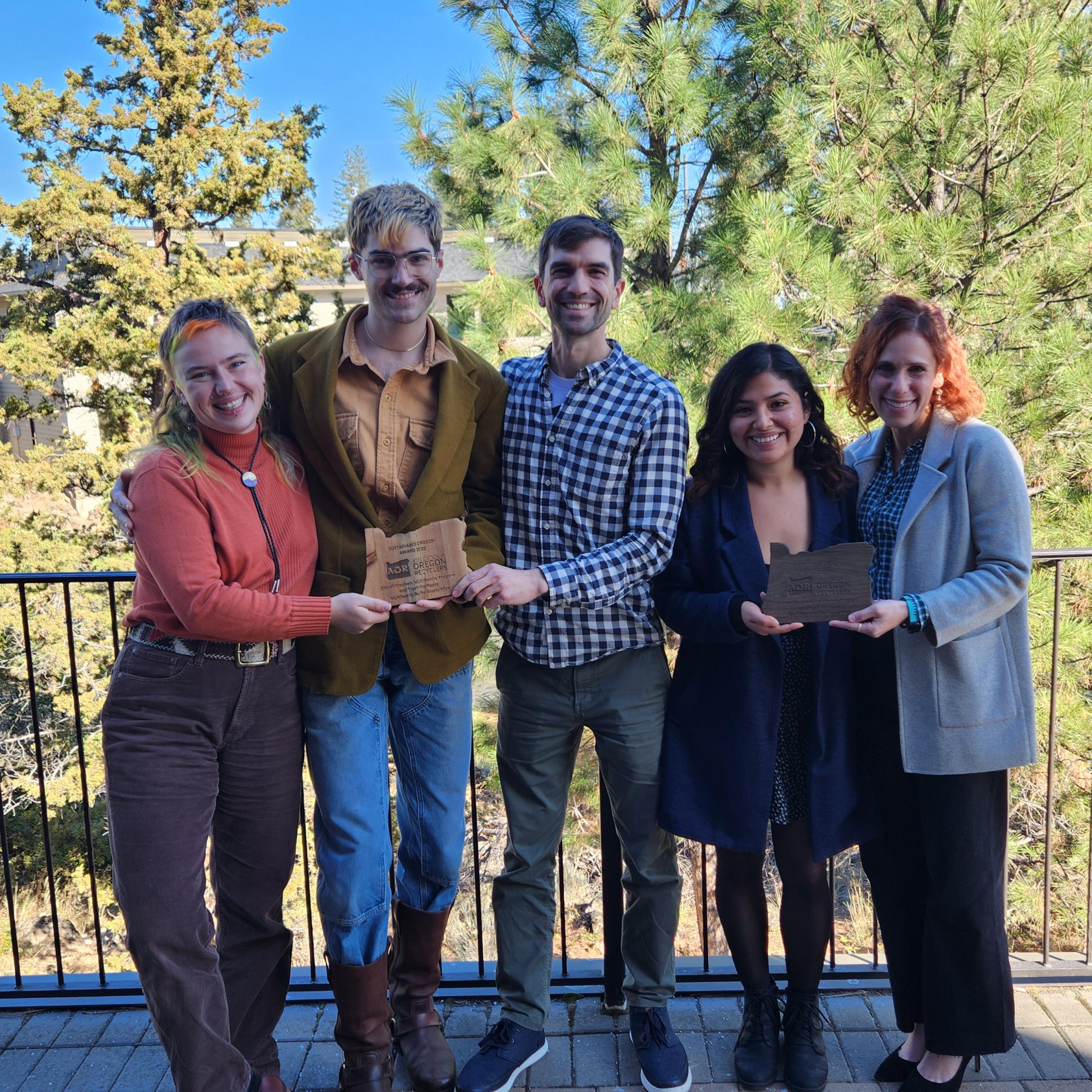 Not only was I aware of how serious abandoned bulky items are from my own work in the multifamily sector, but I had the pleasure of working one of these events and saw firsthand *just* how needed a service like this is as I helped a remove a rather large fish tank from an elderly woman's home.  Community members shared with me how grateful they were for now they had more space in their homes or had an eyesore removed.  I heard comments about how the event meant the world to them because it alleviated the stress and worry of how they were going to afford or move these objects themselves. In addition to providing this service at no cost to community members, there was an opportunity for residents to be a paid "Spring Cleaning" leader and assist with the event.  Trash for Peace also brought in paid Environmental Promoters to get the word out and provide culturally responsive and multilingual outreach and education during these events.  These promoters are other multifamily residents that have been trained in teaching others how to reduce, reuse, recycle, waste prevention and healthy homes.
In addition to bulky items other materials such as Christmas Trees, appliances and other e-waste items were also collected showing the residents proper disposal of these items.  Over the course of these events more and more elements of reuse were incorporated through setting items aside that could be reused by residents, to bringing on Frog and Toad who will take items as well for repair and redistribution back out into the greater community.
The residents weren't the only ones who benefitted.  The property managers were supported by the fact that these events were offered to them at no cost, providing an equitable and accessible solution to a problem that can often be a financial burden to deal with.  By hosting an event at their community, the property managers were empowered through seeing how these events work and how they can replicate them in the future. 
So please join me in honoring my mentor and best friend Nick Isbister with City of Gresham, Alice Rotzatin, Alondra Flores Aviña, and Laura Kutner with Trash For Peace, Sun and Revel from Frog and Toad, and Jennifer Payne from Metro- please come up on stage to receive your award.