Student Member Spotlight - Hayden Hendersen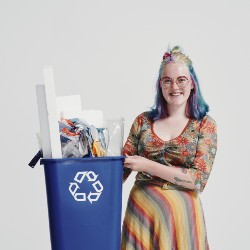 Welcome new student member Hayden Hendersen!
Name: Hayden Hendersen
In what university/college are you currently enrolled, or if an AmeriCorps volunteer, where are you working/volunteering?
Portland State University
Tell us about your major or current career path.
I'm currently a graduate student in the Educational Leadership and Policy: Leadership for Sustainability Education program. I am also pursuing a Master's Certificate in Sustainable Food Systems. I currently work for Portland State University's Planning and Sustainability Office as the Reuse Coordinator, helping to promote and manage reuse programs on campus and help lead a group of volunteer students on the Waste Reduction Task Force. I previously graduated from Reed College with a degree in Environmental Studies: Political Science, focusing my thesis research on the implementation of more plant-based, green, and healthy school lunch programs and policies. I also worked as Reed's Student Sustainability Coordinator.
Are there any particular segments of the recycling/materials management industry that you would like to work in?
I hope to keep helping schools reduce their waste through reuse programs and lunchroom action!
What motivates you to recycle and live sustainably?
I love biodiversity, clean air, and water, and want all people to be able to access sustainable, low-waste, low-pollution resources. It's a matter of survival for all of us! It's a fun personal creativity challenge to make art, garden, and sewing projects out of all reused materials and try to reduce my own waste as much as I can.
If you were an animal, which one would you be and why?
Realistically, I would be a sloth because I have chronic illness/disabilities that make me pretty sedentary and sleepy/in need of rest from pain! I would fit right in with the snoozing sloths.
How did you learn about AOR?
My campus supervisor Brandon is a member.