Student Member Spotlight - Gretchen Sandau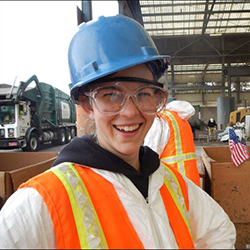 Welcome new student member Gretchen Sandau!
Name: Gretchen Sandau
In what university/college are you currently enrolled, or if an AmeriCorps volunteer, where are you working/volunteering?
I am working at Clark County through the Washington Service Corps.
Tell us about your major or current career path
My project for my term of service is to go out to restaurants in the Hazel Dell community to promote and gauge awareness about the food scrap composting program offered here in Clark County. I'd like my career path to continue in the materials management/recycling industry.
Are there any particular segments of the recycling/materials management industry that you would like to work in?
I enjoy doing waste composition audits to be able to provide feedback to organizations who are looking to improve their diversion rates. I also enjoy collecting data about waste and recycling. Operations work from a county or city government aspect.
What motivates you to recycle and live sustainably?
Many things. After spending eight hours at a transfer station and seeing how much waste comes through, that really motivated me to live a less wasteful life. Other reasons are knowing we are running out of natural resources and that this planet is the only home we got.
If you were an animal, which one would you be and why?
I'd be an otter. I love that they are able to adapt to their surroundings and can survive both on land and in water. They are also playful, social creatures which are traits I identify with too.
How did you learn about AOR?
Through working at Community Environmental Services.