SESSION SUMMARY: Never Stop Learning: Where You Are, In Your Language
This is a summary of "Never Stop Learning: Where You Are, In Your Language," one of Sustainable Oregon 2021's virtual conference sessions. Scholarship recipients are asked to write a blog post about one of the sessions they attend. Thank you to our Scholarship Sponsor Metro for funding scholarships for this year's conference. This session was sponsored by the City of Portland Bureau of Planning and Sustainability. A special thank you to Sustainable Oregon 2021's Title Sponsor Waste Connections.
Written by: Yaquelin Garcia-Delgado, Metro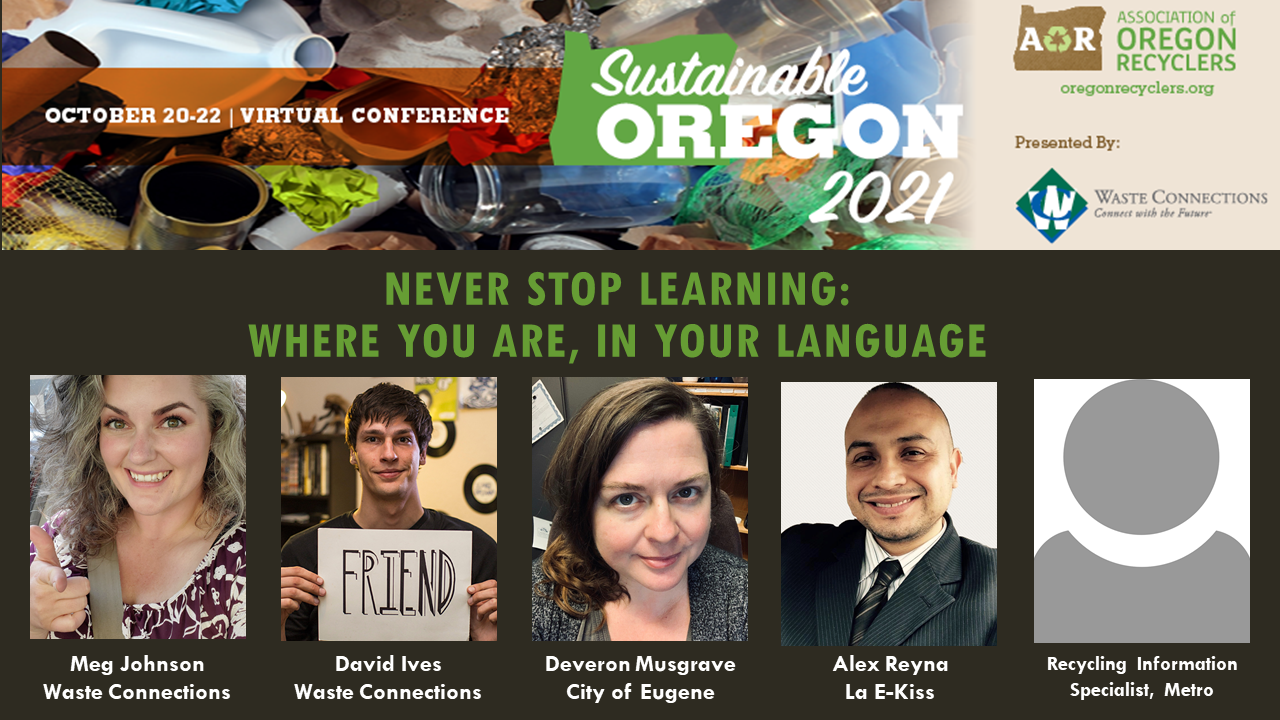 I really enjoyed this conference and it was incredible to see everyone who is making a difference in their communities. Building trust and belonging across these communities was a major takeaway for me. Amidst the impacts that everyone has faced during the global COVID-19 pandemic, our educators and waste reduction specialists have been able to be creative, adapt to change, and innovate new ways to reach people virtually through various online platforms. This was vital to keeping people connected to waste reduction while building knowledge and supporting people through some human interaction.
The way that Meg and David of Waste Connections of Washington made learning fun and engaging really sets a new standard for virtual learning. It's amazing and eye-opening to see how they make videos without words, but the music included takes you on your own learning and reflective journey.
In the City of Eugene, it is great to see the efforts of Derevon and Alex for community partnerships and fix-it fairs. Through the expertise Alex brings in along with his lived experiences, he uplifts the voices of those who have been historically marginalized - his work is motivating and inspiring!
Lastly, the work happening at Metro in Kathryn's team with the Recycle or Not Instagram to reduce contamination in the recycling bins is exciting. Using online platforms to connect with people from all over is a great way to spread education and at the same time be a resource in the community. The graphics used in the Recycle or Not campaign are succinct and hold bright colors that anyone can connect to.
All of these presentations had one thing in common, they are all trying to reach audiences that are new and local while reaching people that can be leaders and advocates in their own community.