SESSION SUMMARY: Hot Topics in EPR: It's More Than Just Recycling
This is a summary of "Hot Topics in EPR: It's More Than Just Recycling," one of Sustainable Oregon 2021's virtual conference sessions. Scholarship recipients are asked to write a blog post about one of the sessions they attend. Thank you to our Scholarship Sponsor Metro for funding scholarships for this year's conference. This session was sponsored by Oregon DEQ and Clackamas County. A special thank you to Sustainable Oregon 2021's Title Sponsor Waste Connections.
Written by: Maria Gabriela Buamscha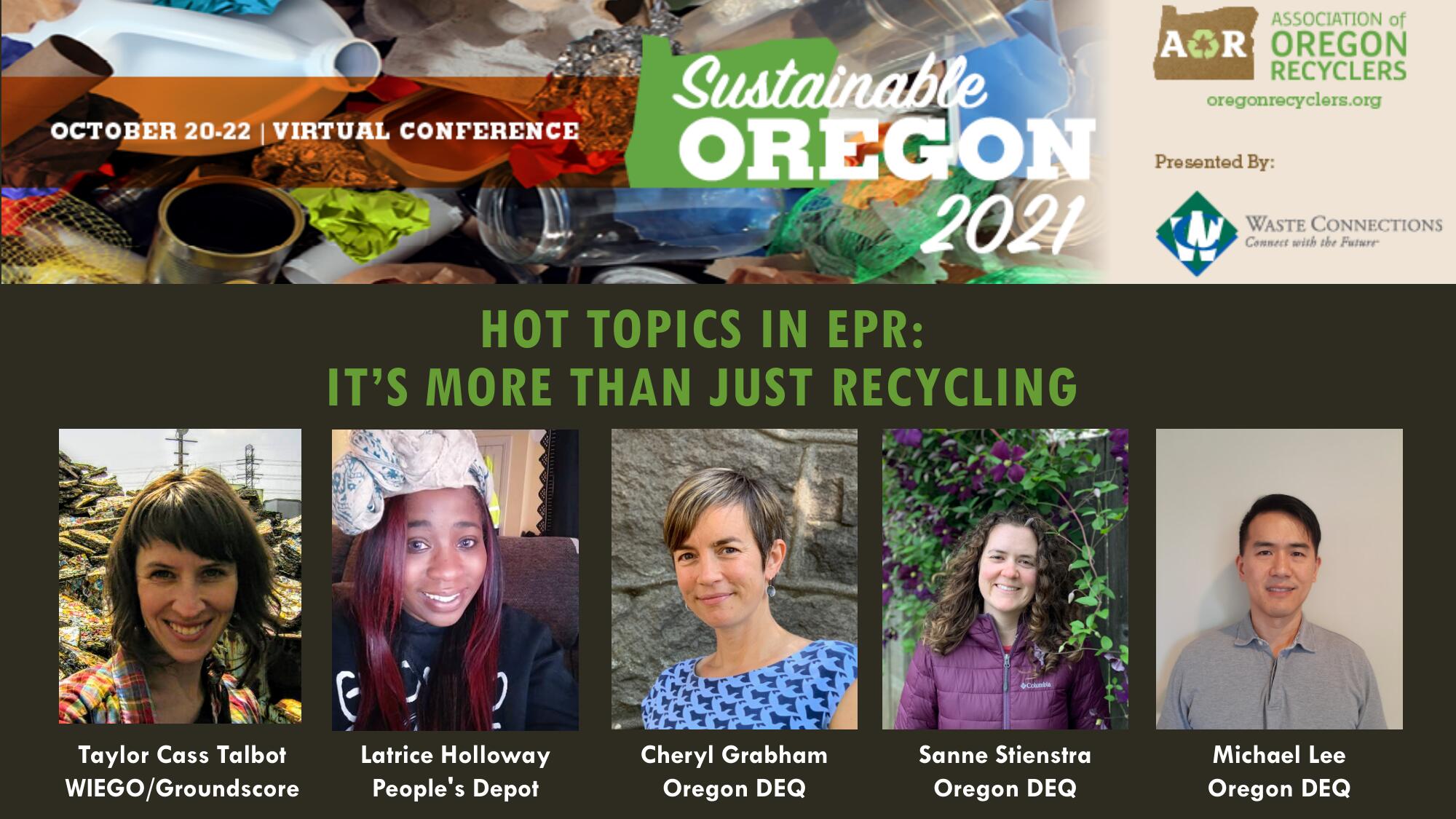 The session focused on organizers and workers from informal waste associations in Oregon and Washington. It discussed how EPR policies can maximize the inclusion of workers in need of low-barrier work, advance equity in the recycling system, and promote more sustainable product design. The second part was dedicated to the 2021 Recycling Modernization Act and the plan to implement it across Oregon. Finally, a review of the DEQ's Drug Take-Back Program that was launched this year.
Taylor Cass Talbot, WIEGO and Ground Score Association                                                                   
Taylor works for WIEGO (Women in Informal Employment Globalizing & Organizing), where she coordinates the global Reducing Waste in Coastal Cities Project. Across the world, millions of people depend on informal or disorganized waste picking and commercialization. Unfortunately, in Oregon and abroad, EPR does not always result in equal access to waste commerce to the communities that historically depend on it.
Taylor works part time for Trash for Peace, assisting in the formation of the waste picker association Ground Score. Ground Score is a peer-led program for community members that collect cans and bottles as a main source of revenue. The association facilitates access to low-barrier job opportunities for its members who may or may not face work and housing insecurity. Ground Score has provided jobs in litter collection, event waste management, and advocacy relating to equitable access to waste and recycling services.
Latrice Holloway, The People's Depot                                                                                                                       
Latrice proudly calls herself a canner and tells that she learned the trade from her grandmother. The People's Depot accepts cans from anyone who does not have access to transportation to reach selling sites. Located in the Morrison Bridge and St. John's areas, its financial support comes from annual grants. The group is actively working on finding steadier sources of income to build a more resilient organization.
Cheryl Grabham, Sanne Stienstra, and Michael Lee; Oregon Department of Environmental Quality
Cheryl Grabham supervises DEQ Solid Waste and Material Recovery. The SW & MR aid in the development and policy implementation of programs such as the Plastic Pollution and Recycling Modernization Act, Drug Take-Back, and Oregon E-Cycles, to mention some.
Sanne Stienstra is the project manager for Oregon's Plastic Pollution and Recycling Modernization Act. 
A DEQ study found no evidence between the recovery-collection-recycling of waste and the increase in price of goods. The results of this study were key for the passing of the 2021 Recycling Modernization Act.
Part of the presentation was dedicated to ORSAC, a statewide organization with 17 board seats representing different Oregon regions. The plan is to fill all seats by November 2021; the organization is actively seeking board members of diverse backgrounds - especially communities of color and communities with historically unequal opportunities to access higher pay jobs, education, and environmental justice as a whole.
Michael Lee is the coordinator for the Drug Take-Back Program, a statewide product stewardship program offering Oregon residents a convenient, safe, and secure way to dispose of unwanted prescription and over-the-counter medicines. The program was developed in coordination with the Board of Pharmacy, as well as public health and community partners. Medproject USA and Drug Takeback Solutions Foundation are collecting the material. There are approximately 300 drop-off sites in Oregon, most of them are located inside pharmacies. Consumers can now find a kiosk where they can drop off unwanted meds.