Recycling 101 Certificate Program Offers CEUs/PDUs; Now in Spanish!
Submitted by

Michelle Metzler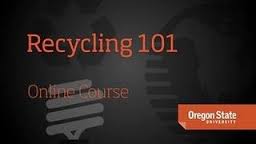 Recycling 101, overseen by the Association of Oregon Recyclers and available online through Oregon State University's Ecampus, is a non-credit professional development course designed to educate participants about recycling, waste prevention, and composting.
Modeled after the highly successful Master Recycler training, the eight-module Recycling 101 course was developed by a committee of industry experts including material recovery facilities, local and state governments, garbage and recycling haulers, recycling nonprofits, processors, paper mills, landfill and compost operators, and solid waste consultants over a period of five years. The course includes approximately 20 high-quality videos, interactive games, and short tests spread throughout the modules. The course is available in English and Spanish. Completion of the certificate program also provides CEUs for PLANET, SWANA, and PDUs for those teaching in the Jefferson, Oregon School District.
What's Covered in Recycling 101?
Recycling 101's participants learn about the life cycle of recycled materials; are trained in waste prevention, composting, and recycling; study the aspects of commercial and residential recycling; and discover how waste prevention positively affects our natural resources.
The course teaches students:
•             what happens to garbage and recycling after they leave your curb;
•             how curbside recyclables become new products;
•             how to prepare your recyclables to help support recycling markets;
•             the legal foundations of the solid waste management industry in Oregon;
•             how our consumer choices affect the environment;
•             how to conserve resources and improve recycling at home and at work;
•             which areas of individual action have the largest environmental impact; and
•             how to take action and influence others.
Those who have completed the course range from students to marine biologists, environmental health professionals, facilities coordinators, and of course, recycling industry professionals.
How Do I Sign Up for Recycling 101?
To sign up for Recycling 101, or for more info, visit OSU's Professional and Noncredit Information website: https://pace.oregonstate.edu/catalog/recycling-101-certificate
The cost is $75 for individuals and $50 for organizations that purchase five or more registrations.