New Member Spotlight - Brion Hurley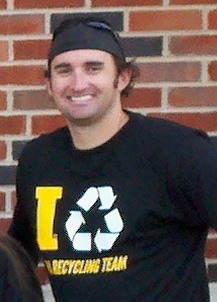 Welcome New AOR Member Brion Hurley!
What is your name?  Brion Hurley
Where do you work and what do you do? Rockwell Collins in Wilsonville. I'm a Lean Six Sigma process improvement consultant working on making the manufacturing processes run faster with fewer defects. I'm also the new president of Recycling Advocates.
Tell us how you embrace recycling/sustainability in your home or workplace?  I setup composting at work to collect pre and post consumer food scraps, and led the team to a Gold Sustainability certification from Clackamas County. I'm also leading a campaign with Recycling Advocates to reduce disposable coffee cups.  My philosophy is "refuse," so there isn't anything to reduce, reuse or recycle. I've been a vegan for the past 2 years, and I think it's one of the most sustainable ways to eat. My biggest pet peeve is all the napkins given out everywhere you go (even when dining in). Can't people eat without making a mess?
What motivates you to recycle and live sustainably? At first, I hated seeing all the stuff that goes to the landfill. Now I see how much impact these materials have on carbon emissions, so that has greatly increased my passion around materials management.
If you were an animal, which one would you be and why?  Dodo bird. When I was a kid, there was one at our local museum, and it was my first introduction to extinction, and it really had an impact on me.
How did you learn about AOR?  Through Recycling Advocates
Thanks, Bryon, great to meet you and we can't wait to see you at upcoming AOR events!