AOR Sustainable Oregon 2022 Winner: Lauren Norris
Lauren Norris, long-time leader of the Portland Master Recycler Program, recently retired. Colleagues and former Master Recycler students nominated Lauren to receive a Lifetime Achievement Awards. Genevieve Joplin of the City of Portland, presented and accepted the award on Lauren's behalf. This is what Genevieve had to say: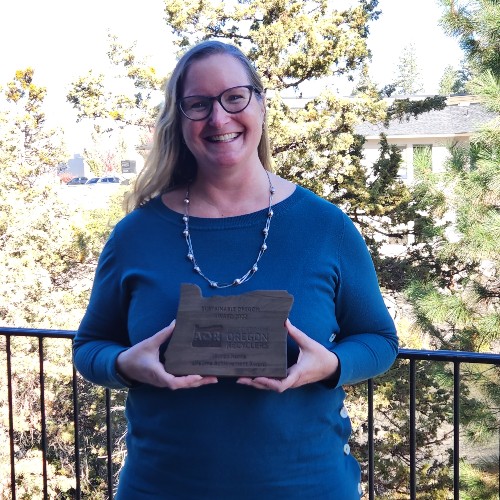 "Hello, I'm Genevieve Joplin, with City of Portland. This summer, the Master Recycler program saw a big change: the retirement of its program manager, Lauren Norris, and it's move from the City of Portland to Metro's Community Service and Education Program.
In recognition of her 17 years of service to the Master Recycler program, regional governments and community based organizations nominated Lauren Norris for a Sustainable Oregon Award.
It was in the Master Recycler manager role that Lauren helped to elevate the actions of "reduce, reuse, recycle" to move the needle on consumption of materials and climate change. Lauren's exceptional skills in volunteer development have fundamentally shifted how we approach outreach and education in the materials management field.  Her lived experience made her aware that public programs were simply coming up short to communities that have historically been left out of public processes, engagement opportunities, and green jobs.
So she reached out to community organizations North by Northeast community health center, Centro Cultural, Trash for Peace and Red Lodge Transition Services, to co-develop a new type of Master Recycler training specific to each of their community's needs and interests.
Through these Community -Designed classes Lauren helped foster a sense of empowerment and personal connection to waste, toxics, and climate that has resulted in taking pride in their community in a new way. Her dedication to creating an equitable waste and recycling system has resulted in an innovative and transformative program that continues to grow throughout our region and will continue to grow for years and years.
I'm happy to accept this award on Lauren's behalf, as she is unfortunately unable to be here today, but shared her appreciation, and in her words:
"I am incredibly honored to be recognized for my commitment to diversity, equity and inclusion. I'm also excited to raise up the community led efforts by Master Recyclers in the community partner organizations. 
Their participation will help us all reach Oregon's materials management vision. I believe that as we change how we produce and consume, it is critical that communities of color and low-income communities are co-creators of the new systems.
We can ensure that we create equitable avenues for wealth building. As we reduce the pollution caused by extraction, we can create safe, living wage jobs in recycling and reuse. As we reduce deforestation, we can increase access for recreation in our natural areas. As we redefine what it means to live a good and rich life, we can ensure that people who have traditionally had the least access to the American Dream will get to enjoy health and happiness. An inclusive process will result in more complex systems that better meet the needs of a diverse population."
Thank you to North by Northeast community health center, Centro Cultural, Trash for Peace and Red Lodge Transition services for your partnership, and my request to my colleagues at City of Portland, City of Gresham, Clackamas County and Washington County, is that we honor Lauren's gift of connection to these amazing organizations, and center their communities in our work. Thank you!"