2018 Recycler of the Year - Life Time Achievement Award: Nancy Bond, Portland Public Schools
Submitted by

Bailey Payne
Many of the recycling/waste reduction coordinators that work with schools are jointly nominating Nancy Bond for the AOR Lifetime Achievement award. Nancy will be retiring in June after a long and successful career as a Resource Conservation Coordinator for Portland Public Schools.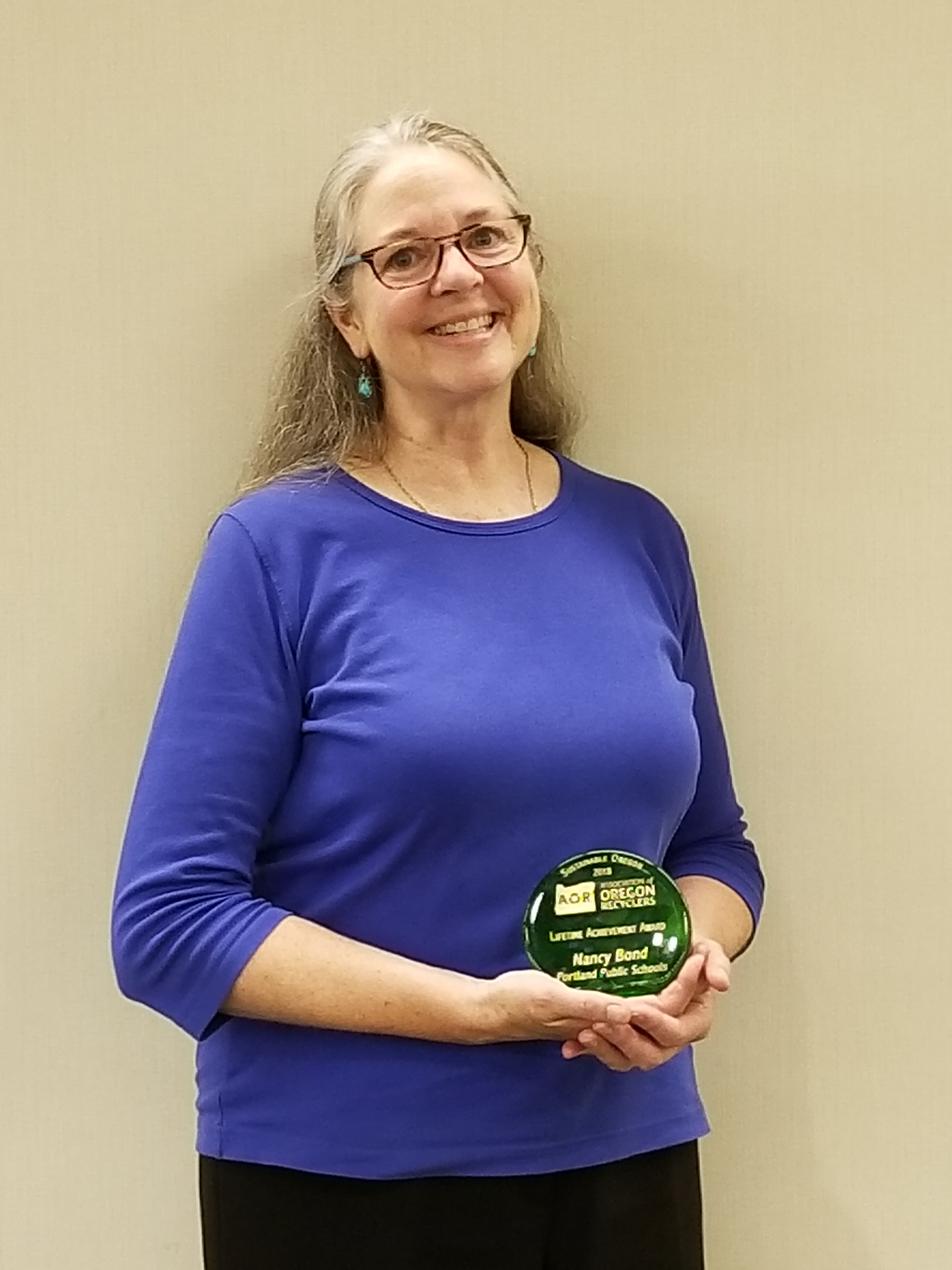 It is difficult to capture all of the accomplishments Nancy has had over the last 20 years in fewer than 500 words, but the following are some highlights of her work which have collectively saved the PPS millions of dollars across the district's energy, waste, nutrition and water-related services, internal practices and policies.
Energy
o Saved energy through lighting retrofits, boiler conversions, solar panels, and propane-powered school busses.
o Saved energy through lighting retrofits, occupancy sensors, and behavior change programs
o Saved more than $75,000 annually by shortening the sleep cycle of copier/printers districtwide.
o Saved more than $100,000 (on-going) on three separate occasions by implementing a power-savings program on all district computers.
Waste Reduction and Recycling
o Negotiated and managed the largest waste contract in the Metro region and incentivized their fleet to switch to compressed natural gas reducing diesel particulate matter near schools.
o Minimized waste through custodial training and replacing Styrofoam trays with durable trays district-wide.
o Maximized the recycling of individual water bottles when lead in the water was identified.
o Helped Nutrition Services assess the cost/benefit of switching to durable trays and helped individual schools switch to washable service ware.
o Organized the food waste program in the cafeterias and kitchens.
Water/Stormwater/Wastewater
o Minimized sewer and stormwater runoff through projects at over 70 schools, saving more than $75,000/year.
o Advocated for devices or equipment that save water (toilets, faucets, dishwashers, aerators, etc.) 
Prudent Use of Resources: 
o Leveraged limited budget to bring on an AmeriCorps member that serves the district as a volunteer and provides 30+ hours of sustainability support/week to the district, particularly emphasizing behavior change around resource consumption. The AmeriCorps Volunteers have reached over 12,000 youth in the last 6 years alone! She also mentored many AmeriCorps Volunteers who have gone on to careers in resource conservation.
o Regularly audited utility bills to identify and correct billing errors which has saved the district more than $3,000,000 in 5 years, and more on-going. 
o Works closely with the Energy Manager in partnership with the Energy Trust of Oregon to maximize project incentives
o Has facilitated hundreds of school gardens, tree plantings, depaving events, coordinating parents, volunteer groups, city departments, and district departments.
o Additionally, she found grant money and rebates totaling more than $2 million to help make PPS facilities more sustainable.
Nancy was also one of the "founding mothers" of the Oregon Green Schools Association in 1997 which continues to help Oregon Schools throughout the state to conserve resources.