2018 Recycler of the Year – Public Agency: Green Team at Coos Bay Bureau of Land Management
The Green Team at the Coos Bay Bureau of Land Management was nominated and awarded for starting a more robust recycling program and at the District Office, educating staff on waste prevention/recycling, and offering recycling at some of the popular recreation sites they manage. The Green Team is a group of nine employees who work together to reduce the federal government's environmental footprint and find sustainable business practices including reducing waste, energy use, and water use. Since their inception in 2015, the Green Team members have worked together to accomplish the following: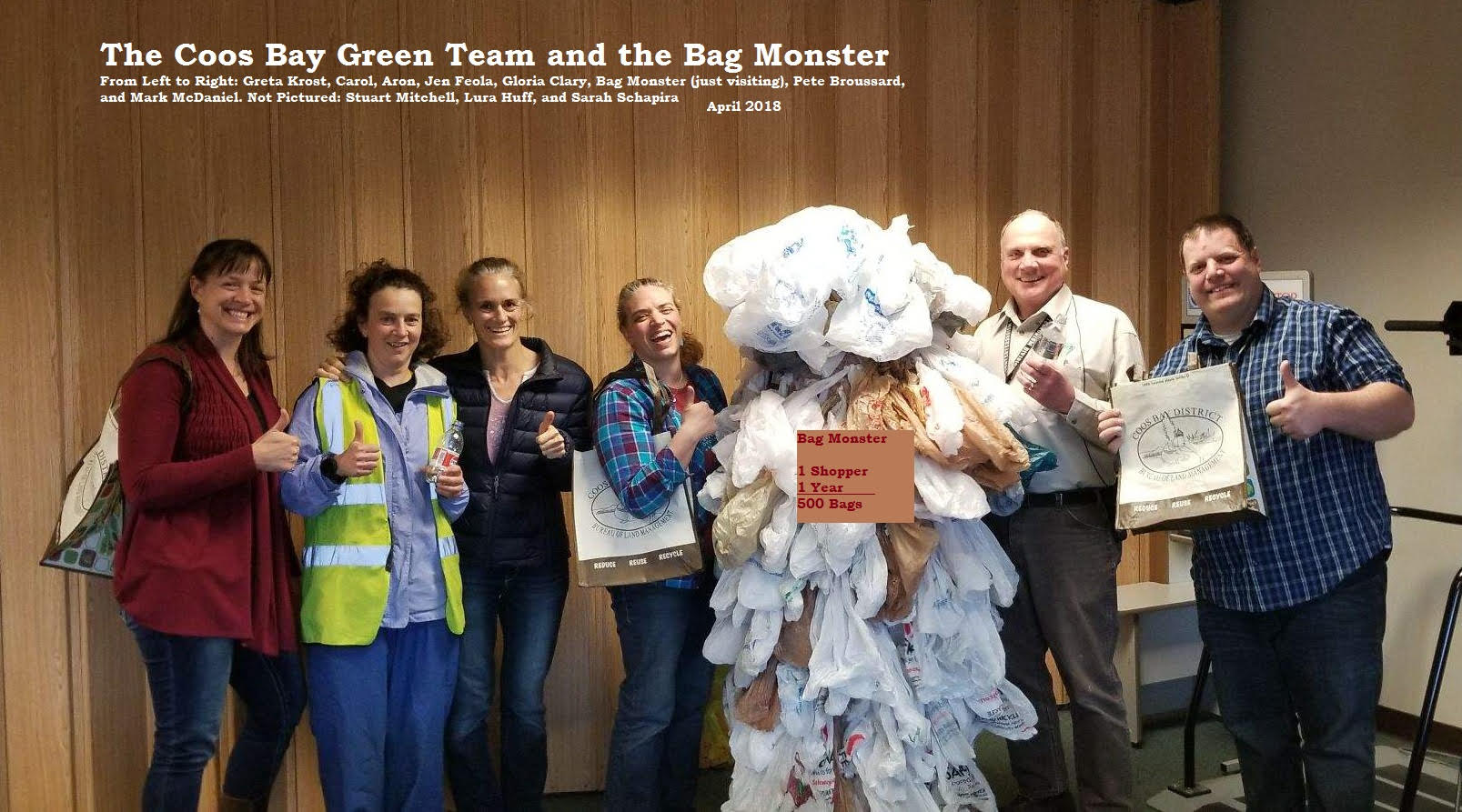 Increased recycling at the District Office of 150 employees to include glass, plastic, aluminum, plastic film, shredded paper, and books. The office was already recycling scrap metal, batteries, paper and cardboard, but worked with their Washington Office to figure a way to co-mingle many of the items, but still follow required reporting requirements. The Team purchased well labeled recycled bins for common areas and desks. The recycled materials are collected by the local garbage company, Star of Hope Inc., and Team members drop off glass at the transfer station and plastic film Safeway. 
Educate staff by making posters on acceptable recycled materials, presentations on changes to Countywide recycling program, MRFs proces, contamination, and explain why quality matters. Two of the Team members also got their Recycle 101 Certification from the OSU online course
In an effort to reduce waste, the Team introduced the Bag Monster at an All Employee meeting and handed out reusable bags in an effort to reduce single-use plastics. The Team also installed two water-bottle filler stations in the Office. 
The Team is responsible for starting recycling at Loon Lake Campground, Edson Campground, New River Day Use, and Dean Creek Elk Viewing Area BLM recreation sites. The Team researched feasibility, collaborated with BLM recreation staff and non-profit groups, and purchased bins and stickers. The two biggest successes are: 
Loon Lake is the the most popular recreation site on the Coos Bay District with nearly 35,000 visitors per season. It was not feasible for the garbage company to collect recyclables at Loon Lake, mainly due to the remote location and long haul distances. The garbage truck has to travel 374 miles round trip per pick-up! Enter the local Boy Scout troop, who picks up 20+ bags of cans and bottles per week! 
Dean Creek Elk Viewing Area is a roadside wayside with bathrooms and garbage cans and a great place to view elk and birds. The BLM has to take the garbage from this site to the dump. The Team worked with Star of Hope who installed bins they purchased with an EPA grant and they also collects the recycled items.