​Join OBRC for Refillable Bottle Program Launch March 23, 2017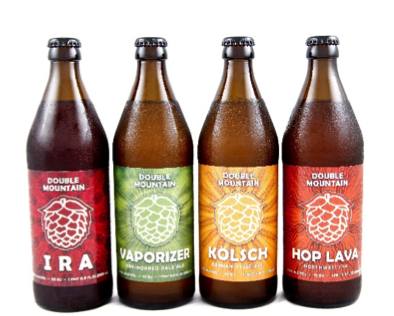 OREGON – Oregon Beverage Recycling Cooperative (OBRC) is partnering with Double Mountain Brewery & Tap Room on the pilot phase of a new refillable beer bottle program. The pilot combines the refillable operations at Double Mountain and the collection capabilities of BottleDrop Redemption Centers. The new pilot program launches on Thursday, March 23, 2017 at Milwaukie BottleDrop, located at 6100 SE King Rd, Milwaukie, OR 97222. Representatives from OBRC and Double Mountain Brewery will be present at 10 a.m. that day to introduce the program, answer questions, and return the first Oregon refillable bottle to a retail location in 20 years. Double Mountain beer bottles will be accepted at any BottleDrop Redemption Center in the Portland metropolitan area and returned to the brewery. 
"A refillable bottle program is a progressive step in responsible materials management for Oregon's craft brew industry," says John Andersen, President of OBRC. "The beverage industry is committed to not only upholding the legacy of the Oregon Bottle Bill, but expanding stewardship efforts through new and innovative programs like this one.
Refillable beer bottle programs, if developed properly, can be more cost effective and a better use of resources than traditional glass recycling. In spite of these benefits, few refillable bottle programs currently exist in the US. The lack of partner networks and necessary infrastructure have been common road blocks to creating refillable systems beyond a single brewery.
"I'm excited to partner with OBRC on a larger refillable beer bottle initiative," says Matt Swihart, Founder and Brewmaster of Double Mountain Brewery. "Customers of our current system love the softer environmental footprint and know they are part of a solution to sustainability."
OBRC is uniquely positioned to make a refillable program work through its existing network of BottleDrop Redemption Centers, fleet of trucks operating throughout the state, existing deposit reconciliation program, brewer, distributor and retailer relationships, and plant facilities to house washing equipment. Subsequent phases will bring more breweries into the program, and establish a full bottle-washing facility owned and operated by OBRC, available to all participating breweries.
OBRC is a member-owned, cooperative that collects and processes nearly all containers sold and redeemed in Oregon. OBRC counts, sorts, crushes, bales and recycles 1.2 billion containers each year, and operates BottleDrop Redemption Centers across the state. All bottle bill operations are funded and managed by the beverage and grocery industries, at no cost to taxpayers.