NRC Kicks Off Series of Recycling Markets Development Workshops in Portland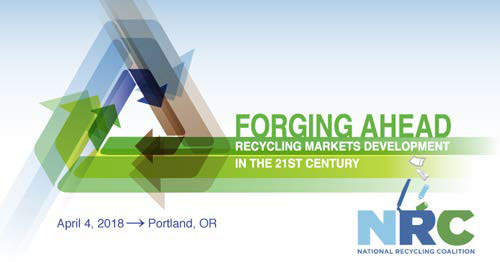 The National Recycling Coalition (NRC) will hold a series of workshops around the country to address recycling markets development. NRC, a national voice for recycling issues, is hosting these workshops to allow participants within the targeted region to learn how to attract and develop new and local markets for recycling materials.
The first of these national workshops - Recycling Markets Development in the 21st Century - will be held in Portland, Oregon on April 4, 2018 on partnership with AOR. Presenters from the private and public sectors will be in Portland to facilitate a discussion to work on long-term solutions toward developing quality domestic markets that stabilize the recycling infrastructure. These national experts will build understanding about the fundamentals of the process, share success stories, address financial opportunities and identify alliances to build recycling markets.
"As we move into 2018, the recycling industry faces many challenges. The National Recycling Coalition and its partner organizations are working together to support recycling collection and processing programs throughout North America, the Virgin Islands, and Puerto Rico," said Bob Gedert, President of the NRC Board of Directors. "In an effort to strengthen America's Recycling Industry, we must make fundamental changes toward increasing quality in our recycling collection programs." 
Join us on April 4, 2018 from 9:00am – 4:00pm at the Airport Sheraton located at 8235 Northeast Airport Way, Portland, Oregon 97220. 
Read more at Waste Dive