2018 Conference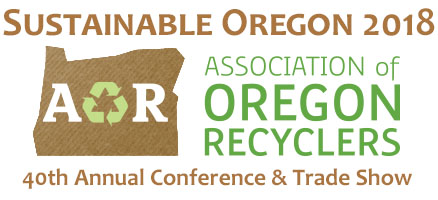 Eugene Hilton
​June 13-15, 2018
Eugene, OR
---
View the Agenda, Presentations, and Speakers Bios
Check out the agenda, presentations, and speaker bios for Sustainable Oregon 2018.
VIEW THE AGENDA, PRESENTATIONS, AND SPEAKER BIOS
---
Recycler of the Year Awards
Each year, AOR selects individuals and organizations that have made exceptional contributions to recycling and waste prevention to receive Recycler of the Year awards.
VIEW THE 2018 RECYCLER OF THE YEAR AWARD WINNERS
---
Board Elections
AOR's election of officers was held at the annual meeting on June 14, 2018.
Congratulations to AOR's newly elected board members:
Ali Briggs-Ungerer, Alison Briggs-Ungerer Consulting - Board Chair
Kristin Leichner, Pride Disposal - Conference Chair
Gaelen McCallister, Garten Services - Secretary
Joel Schoening, OBRC - Marketing Chair
Jennifer Stefanik - Membership Chair
---
Silent Auction
Thank you to everyone who donated items, helped solicit items, and bid on the silent auction. We raised over $4,000 for AOR's scholarship fund. Add in the $1,000+ raised from the 50/50 raffle and together we raised close to $5,000 for AOR scholarships and programs! A special thanks to AOR Fundraising Chair Alex Bertolucci and his Fundraising Committee.
---
Sponsors
A big thank you to this year's sponsors:
Platinum
City of Eugene Waste Prevention and Green Building Program
City of Portland Bureau of Planning and Sustainability
Metro Resource Conservation & Recycling
Oregon Department of Environmental Quality
Republic Services - Oregon Division
Resource Recycling
Waste Connections
Gold
Clackamas County Resource Conservation & Solid Waste
Waste Management
Silver
Lee Barrett
City of Beaverton Sustainability & Recycling Program
EFI Recycling
Far West Recycling
Gresham Sanitary Service
K.B. Recycling, Inc./Kahut Waste Services
Oregon Department of Environmental Quality
Oregon Refuse & Recycling Association
Pride Disposal Company
Recology
Southern Oregon Sanitation
Thompson's Sanitary Service
Washington County Solid Waste & Recycling Program
Bronze
Rogue Disposal & Recycling
Supporters
Alison Briggs-Ungerer Consulting
Bend Garbage & Recycling
Dahl Disposal​
Lane County Public Works
Pacific Sanitation
Port of Portland
Tri-County Hazardous Waste & Recycling Program
University of Oregon Zero Waste Program
---
---
Exhibitors
A big thank you to this year's exhibitors:
​Bulk Handling Systems
Carton Council
City of Eugene
City of Portland Bureau of Planning and Sustainability
Denton Plastics Inc.
Free Geek
Metro Metals NW
NW Polymers
Oregon Refuse & Recycling Association
PCI Waste and Recycling Equipment
The ReBuilding Center
Recology
Rehrig Pacific Company
Republic Services
Re-TRAC Connect
Resoure Recycling Systems
Waste Connections
Waste Management
---
Exhibitors
A big thank you to this year's exhibitors:
BRING Recycling
Carton Council
City of Eugene
City of Portland
Clackamas County
Ecoverse
Lane County
Northwest Product Stewardship Council
Oregon DEQ
Oregon Refuse & Recycling Association
PCI Waste & Recycling Equipment
Waste Connections
Waste Management
Planning Committee
A big thank you to the Conference Planning Committee:
AOR Conference Chair: Elizabeth Start, SCRAP PDX
Caitlin Ahearn, City of Gresham
Kelly Bell, Lane County
Allie Breyer, City of Eugene
Dylan de Thomas, The Recycling Partnership
NaTasha Gaskin, City of Portland
Rosalynn Greene, Metro
Daniel Hough, Oregon DEQ
Laura Leebrick, Rogue Disposal
Kristin Leichner, Pride Disposal
Angie Marzano, Lane County
Therese McClain, Republic Services
Emily Murkland, PSU CES
Deveron Musgrove
Mark Nystrom, Lane County/New Stream Strategies
Heather Robinson, Washington County
Stephanie Scafa, City of Eugene
Emily Shelton, BRING Recycling
Vinod Singh, Far West Recycling
Rachel Snyder, Republic Services
Drew Spainhower, Republic Services
Jennifer Stefanick, Community Environmental Services
Willie Tiffany, Oregon Refuse & Recycling Association
Kim Waxler, Metro