AOR Member Pride Disposal to be Honored at OSU 2016 Excellence in Family Business Awards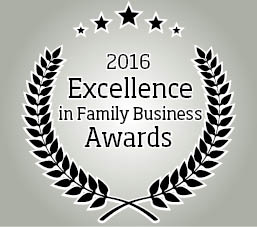 Several Oregon family businesses will be honored at the Oregon State University College of Business' 2016 Excellence in Family Business Awards ceremony on Wednesday, Nov. 2, at the Portland Hilton and Executive Tower.
Bill Stoller, co-founder of Express Employment, will speak at the event, which is sponsored by the college's Austin Family Business Program. Domonic Biggi, president of Beaverton Foods, will emcee. 
"Our Excellence in Family Business Awards recognize the achievements of family businesses in entrepreneurship, community involvement and multigenerational planning," said Mitzi Montoya, dean of OSU's College of Business. "With upwards of 80 percent of Oregon's businesses being family-owned, it is really important that we honor the hard work and drive of these families and continue to foster a culture of support and shared-learning within the family business community." 
Founded in 1985, the Austin Family Business Program provides inspiration, education, outreach and research to support family businesses.
"We want everyone to access these stories and learn why these businesses are so successful." said Sherri Noxel, director of the Austin Family Business Program.
The awards feature categories that reflect sound family business practices. Honorees are:
Family Harmony: The Charlton Kennels & Farm, Portland. Finalists in the category included C & D Landscaping, Dayton, and Jag Forms, West Linn.
Generational Development: Benchmade Knife Company, Inc. C & R Remodeling, Salem, was a finalist in this category.
Business Renewal: GK Machine, Inc., Donald. Finalists included The Cronin Company, Portland, and Pride Disposal Company, Sherwood.
Student Award: Nicholas Strebin, Strebin Farms, Troutdale.
Stoller will receive the 2016 Dean's Award for Family Business Leadership.
The event begins with a reception at 4 p.m. and the program at 5:50 p.m. Tickets are $45 for the reception alone, $75 for the reception with a buffet or $25 for children ages 3-10. The Portland Hilton and Executive Tower is at 921 S.W. 6th Ave., Portland.
Tickets are available online at or by calling 1-800-859-7609 or by contacting Melissa Elmore at OSU.
STORY BY:
Michelle Klampe
541-737-0784
SOURCE:
Sherri Noxel, 541-737-6019, Sherri.noxel@bus.oregonstate.edu