New York Textiles Summit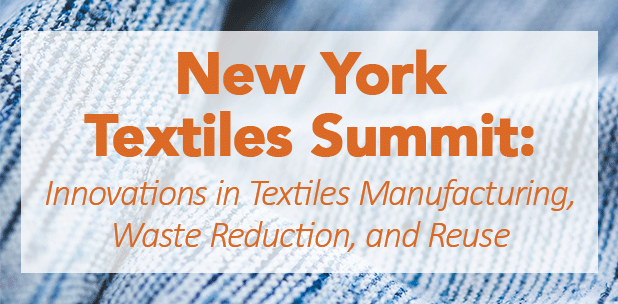 The New York Product Stewardship Council, Re-Clothe NY Coalition, New York State Pollution Prevention Institute, and the Product Stewardship Institute will host stakeholders from across the supply chain -- manufacturers, retailers, recycling/reuse companies and organizations, the fashion industry, state/local government, researchers, nonprofits, and consumers -- to overcome challenges in textiles recycling and drive innovation.
Expert speakers will discuss a range of key issues, including:
•
How companies can design clothing -- with both natural and synthetic fibers -- to be more repairable, reusable, and recyclable;
•
The role that retailers like Patagonia, Eileen Fisher, and H&M can play in taking back clothing and increasing recovery;
•
New, innovative technologies aimed at increasing recycled content in apparel;
•
Existing domestic and international markets for post-consumer textiles, and how we can grow those markets globally; and
•
New initiatives recyclers, researchers, retailers, and others are undertaking to overcome technical challenges in textiles reuse and recycling. 
Both in-person and remote registration are available!
Location:
Fashion Institute of Technology 227 W 27th St, New York, NY 10001