2018 Conference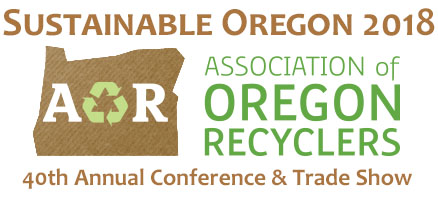 Sustainable Oregon 2018 will be held on June 13-15, 2018 at the Hilton in Eugene, OR.
Sustainable Oregon is a three-day interactive learning experience featuring cutting-edge educational sessions and workshops, local and national experts and speakers, facility tours, valuable networking opportunities, and an awards program celebrating the achievements of Oregon's recycling, reuse, and waste reduction businesses and leaders.
Sustainable Oregon provides stakeholders in Oregon's recycling and waste prevention community with the knowledge and resources to address current challenges in the industry, implement and improve recycling programs, advocate for policies and initiatives that advance recycling and waste prevention, and support the development of a generation of professionals for whom sustainability is a core tenant of their work and life philosophy.
---
Paul Hawken Keynote Presentation - June 13th 7:00pm
AOR is excited to announce that Paul Hawken will be the keynote speaker for Sustainable Oregon 2018!
Paul Hawken's keynote address will be Wednesday, June 13, at the McDonald Theater. Doors open at 7pm. The keynote is included with full conference or single day registration.
He will do a book signing after his presentation. Books can be purchased when registering to attend conference for $22. 
Buy Tickets to Paul Hawken Keynote Presentation
Register for Conference (includes admission to keynote presentation)
---
Registration
Conference registration includes all sessions, entrance to the trade show, receptions, and meals during the conference.
$425 for AOR members, $525 for NonMembers.
Rates increase after May 11th!
---
Hotel
Sustainable Oregon 2018 will be held at the Eugene Hilton. 
The special room rate will be available until May 13, 2018, or until the group block is sold-out, whichever comes first.
---
Agenda, Session Descriptions, & Speaker Bios
Check out the agenda for Sustainable Oregon 2018 and learn more about the topics we'll cover as well as our speakers and moderators.
VIEW THE AGENDA
VIEW THE SESSION DESCRIPTIONS
VIEW THE SPEAKER BIOS
---
Sponsors
Sponsorship at AOR's Sustainable Oregon Conference is a great way to show your support for AOR.
With opportunities ranging from $250 - $5,000, there is something available for every budget.
---
Tours
Join us for an optional tour Wednesday morning, June 13.
Choices include the University of Oregon Zero Waste Program, PakTech, BRING, Rexius, or a self-guided walking tour of MECCA and Hummingbird Wholesale.
---
Rooms & Rides
Find or share a ride or a room at Sustainable Oregon 2018.
---
Scholarships
AOR is committed to fostering broader diversity in attendance. Individuals from traditionally underserved communities, people of color, women, and immigrants are encouraged to apply.
Applications are due May 11, 2018.
---
Recycler of the Year Awards
Each year, AOR selects individuals and organizations that have made exceptional contributions to recycling and waste prevention to receive Recycler of the Year awards.
Nominations are due May 11, 2018.
---