Sustainable Oregon 2017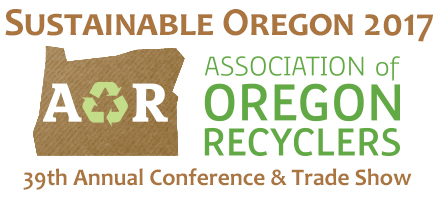 Sustainable Oregon 2017 will be held on June 7-9, 2017 at the Salishan Spa and Golf Resort in Gleneden Beach, OR.
Sustainable Oregon is a three-day interactive learning experience featuring cutting-edge educational sessions and workshops, local and national experts and speakers, facility tours, valuable networking opportunities, and an awards program celebrating the achievements of Oregon's recycling, reuse, and waste reduction businesses and leaders.
Sustainable Oregon provides stakeholders in Oregon's recycling and waste prevention community with the knowledge and resources to address current challenges in the industry, implement and improve recycling programs, advocate for policies and initiatives that advance recycling and waste prevention, and support the development of a generation of professionals for whom sustainability is a core tenant of their work and life philosophy.
---
Registration
Conference registration includes all sessions, entrance to the trade show, receptions, and meals during the conference.
Early-bird registration is $475 for AOR members, $525 for non-members. Single-day registrations are also available.
---
Agenda & Speakers
This year's conference session include: Equity & Diversity; Diesel Retrofits/CNG; Multifamily Recycling; Art in Education; Reuse and Repair; Behavior Change; Recycling Contamination; Difficult-to-Manage-Waste and "Problem Materials", Food Waste Prevention and Recovery  and Innovations in Recycling.
---
Hotel
Surrounded by spectacular Oregon coastal forest and the tranquil Siletz Bay, Salishan Spa & Golf Resort has been the ultimate choice in Oregon Coast luxury hotels for over fifty years.
The resort has numerous rooms and suites available to meet the needs of conference attendees at a special conference rate.
---
Rooms & Rides
Find or share a ride or a room at Sustainable Oregon 2017.
---
Recycler of the Year Awards
Each year, AOR selects individuals and organizations that have made exceptional contributions to recycling and waste prevention to receive Recycler of the Year awards.
---
Board Elections
AOR's election of officers will be held at the annual meeting on June 8, 2017.
---
Silent Auction
Each year, AOR hosts a silent auction in the exhibit hall to raise funds to support scholarships and program development. AOR will make arrangements for item pickup and transportation to conference.
---
Sponsors
Sponsorship at AOR's Sustainable Oregon Conference is a great way to show your support for AOR.
With opportunities ranging from $250 - $5,000, there is something available for every budget.
---
Exhibitors
AOR's exhibit hall is a great way to showcase your company and products in front of hundreds of industry professionals looking for you! The exhibit hall is the cornerstone of conference activity with breaks and networking scheduled to maximize your exposure.
Booths included registration to the conference, increasing your opportunities to network with conference attendees.
---
Scholarships
Scholarship applications are now being accepted through April 14th, 2017. Applicants will be notified of decisions by April 21st.
SCHOLARSHIPS HAVE BEEN AWARDED AND RECIPIENTS HAVE BEEN NOTIFIED.