Meet the Candidates
This year's Board elections will take place on Thursday, June 8th at 12:30pm during the annual meeting at Sustainable Oregon 2018.
Positions up for election this year include: Education Chair, Fundraising Chair, Legislative Chair, Markets Chair, and Treasurer.
If you're interested in running for a position or would like more info, please email us.
Education Chair
Addie Giddings | Recology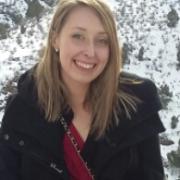 My name is Addie Giddings, Safety Specialist for the Oregon Recology companies, and I am running for AOR's Education Chair.
As Safety Specialist, I oversee safety programs at over 10 sites across Oregon. Much of my role is focused on employee well-being, which has taught me the importance of solid education and effective communications. I want to utilize my skills to be an asset to AOR's education goals.
Through my years in the safety field, I have placed great value on timely, inventive, and engaging education. I prefer interactive learning, but also believe there is a place for a well-coordinated webinar or aesthetically-pleasing document. In addition to standard forms of education, I am also trained in film editing and have used that knowledge to create and edit educational videos. By regularly creating a variety of training materials, and conducting various types of education, I feel I have skills that would make me a good fit for the Education Chair at AOR.
My industry history has been diverse, from an internship at a utility company to several years in the package and logistics industry. I ultimately found my passion in recycling and resource recovery at Recology. My enthusiasm for minimizing waste and finding the best purpose for resources will allow me to make the most of the Education Chair.
I am truly excited about this opportunity and look forward to being a part of Oregon's recycling future.
Fundraising Chair
Alex Bertolucci | Washington County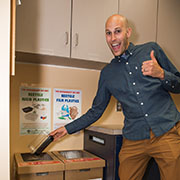 Alex started his career in green building and material reuse while working for Habitat for Humanity ReStore, where he worked for more than eight years, including opening and running the Beaverton ReStore. For the last three years, Alex has been a Green Business Advisor with Washington County Solid Waste & Recycling, where he has works with hundreds of businesses a year to reduce waste, start composting, and improve employee recycling. He earned a bachelor's degree in business management and sustainability studies from The Evergreen State College in Olympia, WA. Alex has been working with the AOR Fundraising Committee for the past year. He is excited to put his passion for waste reduction and his background in nonprofit work to good use as your AOR Fundraising Chair. Two fun facts about Alex — his favorite color is shiny and he loves Legos.
Legislative Chair
Pam Peck | Metro (incumbent Education Chair)
Markets Chair
Vinod Singh | Far West Recycling (incumbent)
Treasurer
Laura Leebrick | Rogue Waste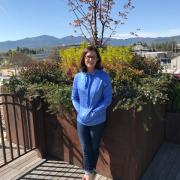 Laura is the Community & Governmental Affairs Manager for the Rogue Waste family of companies based in Medford, Oregon, which is comprised of solid waste and recycling collection and transfer operations, as well as a regional landfill, a landfill gas-to-energy facility, CNG fueling station, and commercial composting operations. She has 19 years of experience in the private sector solid waste and recycling realm, in roles ranging from recycling education and outreach, operations management, and public affairs. She also spent some of those years as an industry lobbyist in Salem, for the Oregon Refuse & Recycling Association before coming to Rogue Waste in 2014. Through her work, Laura has had the opportunity to be engaged in alternative energy & fuel, environmental and transportation policy development at the state and local levels, and has participated in various policy workgroups, rulemaking advisory committees, and stakeholder efforts. 
Laura has been an active AOR member since 1999, and has enjoyed participation in various AOR committees throughout her years of membership, serving on the Legislative, Membership, and Conference Planning committees. She also serves as a Co-Regional Liaison in Southern Oregon, happily sharing the role with Risa Buck in Ashland.
Laura has participated formally in a number of fundraising and sponsorship support efforts over the years for organizations ranging from local animal shelter and hospital foundation boards, as well as SWANA (Oregon chapter), and is currently working on a membership and fundraising program for the Rogue Valley Clean Cities Coalition as a sitting Board member. 
Laura and her family of critters relocated to the Rogue Valley in 2014, after having spent 17 years on the beautiful north Oregon Coast, and while she loves the sunshine and beautiful environment, she still misses the ocean, the mighty river, and the terrible weather.